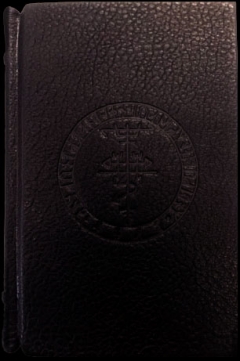 L E A T H E R B O U N D S V A R T K O N S T
Ekortu

-SOLD OUT-




Limited edition of 33 handmade copies

Full leatherbound, hardcover edition, with handmade endpapers and handmade binding. Frontcover, spine and backcover blindstamped with symbol and blindstamped spine text. All advance payments for the limited leatherbound editions are final and non-refundable. Reserving a copy in advance is possible only leaving advance payment. The book will be reserved for you upon receiving the payment. The books will be crafted ready during summer 2020.



Trollpåse (only for the buyers of the handmade edition)

A small consecrated bag that holds magical items and/or herbs for various purposes. Available only for buyers of the talismanic edition. The bag will be made of the same leather as used in the books, the author will make and consecrate each Trollpåse individually. (Can not be shipped to Australia or South-America.)

Some copies of the edition will come with trollpåse. We are currently finding out how many bags can be crafted. The trollpåsar (on their own) will be offered for sale at a later date once we have got confirmation to everything. If you are interested of the trollpåse, let us know.